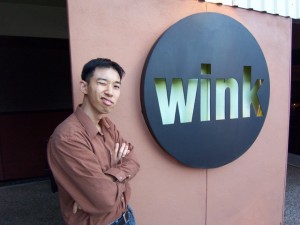 Last week I took my wife to Austin for a date…complete with babysitting and everything:)  We were going to go to one of our favorite restaurants in Austin, Texas:  Wink
The last time we were here, we saw the sampler menu and thought, "Gee, this looks yummy!  And it's only $65 for all this food!"  For some retarded reason, we thought it would feed the both of us.  Over an hour later, to our surprise, we got the bill and it was $65 per person!  So needless to say that meal was memorable in many ways.
There were two items that left an impression on us so we decided to order them again:  The Scallops and the Foie Gras.  Disclaimer:  These pictures were taken with my dinky point and shoot in a very dimly lit restaurant.  So they are bad pictures.
Seared Dayboat Scallops with mixed bell peppers, Italian roma beans and shellfish veloute:
These scallops are unlike anything you've ever tasted.  They're velvety smooth in the inside and have so much more flavor then those dinky scallops you normally see in restaurants.  The difficult thing to do is to cook these right.  You undercook them and they're too fishy, you overcook them and they're too tough.  These were done perfectly.  You can order this as an appetizer or a meal.  Since Autumn and I were splitting everything, we got the meal size for $29.  Too much of this can be a little overwhelming, so make sure you share and don't be greedy.  Or just ask the waiter for more bread.
Seared Foie Gras on brioche with pickled rhubarb, black pepper strawberries, and almonds:
Now this was an appetizer…but for $22, it sure wasn't priced like one.  If you've never had foie gras, you've got to taste it at this restaurant.  It's full of flavor and just melts in your mouth.  Why do they give you so little of it?  It must be bad for you that's why.  I'm not even sure I know what it is.  Something about fat and liver is what Autumn told me.  Hey, it's French, what can I say?  Just eat it and quit worrying.
Word of advice: Get reservations.  I thought I could just mozy on in the restaurant, but good thing I called.  The guy on the phone told me I had a choice of 6:30 PM or 9:30 PM.  Gee, thanks for the choices.  We went for 6:30 PM and decided to catch a Realtor event afterwards.  We didn't eat too much here because there was supposed to be food at the following event (turned out that there wasn't much there either).  When you get to Wink, they also usually give you a little pre-meal tasting of something they made to whet your appetite.  This time Autumn and I got to try some Ginger tea with a Ginger snap cookie.  Impressive, I know.  What's impressive about these restaurants is how they can serve you so little and give you the silliest things and yet they taste so good and seem to cost so much.  In the end, is it worth it?  Well remember, we came back for a second time…and considering that we only had a choice of two reservation times that night… other people come back as well.
At the Realtor event, the food was pretty lame, but check out the fire dancer!