forex öppettider gävle It seems like restaurants in Georgetown go out of business just as quickly as new ones pop up. I just thought I noticed Stone Canyon Cafe disappeared and one of the restaurants I reviewed on this blog, Chantal's, is also gone. What a shame. Chantal's was good.
click here Well, here's one that has been around for awhile and is located on the historic square in Georgetown, TX:
get link
get link My wife and I took an afternoon lunch date and ordered the following:
binary options 101 blog Hickory Smoked Pork Roast, Red Eye Gravy
Red Bliss Mash Potatoes, Pearl Onions & Baby Carrots
go site Maple Leaf Duck-Spinach Salad
Hot Applewood-smoked bacon dressing
enter site The pork was a bit dry, but the overall dish had a good smokey flavor. The duck was tender and salad tasted good. Autumn and I thought that the serving was a little small and hoped they would have crisped up the duck a bit more. For an entree the salad seemed to be sized more like a side dish. We were still hungry so we downed about 4 of their dinner rolls, which by the way, are served warm with a generous side dish of butter.
go here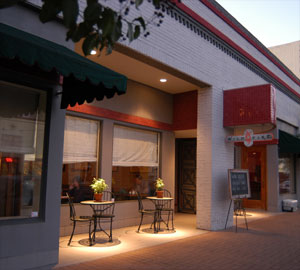 The nice thing we noticed is that they finally renovated the nasty old ceiling. It used to be white and moldy looking, and now it's a nice elegant maroon color. The setting in this restaurant is nice, not too expensive (lunch came to about $20) and ideally located downtown so you can walk off that side dish of butter that comes with your rolls.
So, if you want to meet a local real estate agent to talk about buying and selling, this could be a good place for lunch (hint, hint). Since I added that plug about real estate and talked about my experience, I guess that lunch with Autumn is a write-off right?
http://gatehousegallery.co.uk/?myka=trading-online&5f7=9e So, have you been here? What's your favorite dish? This blog is boring without reader interaction, I value your comments! Want the latest updates on Georgetown Texas Real Estate, news and latest developments? Sign up for the blog by clicking the link below: