http://acps.cat/valors/ It seems like restaurants in Georgetown go out of business just as quickly as new ones pop up. I just thought I noticed Stone Canyon Cafe disappeared and one of the restaurants I reviewed on this blog, Chantal's, is also gone. What a shame. Chantal's was good.
http://moragbrand.com/?ljap=opzioni-binarie-robot-keith-jones&d3e=18 Well, here's one that has been around for awhile and is located on the historic square in Georgetown, TX:
beställt från slimex.se
http://secon.se/images/1ndex.php My wife and I took an afternoon lunch date and ordered the following:
http://graciediet.com/ask/hello-im-a-4-year-gracie-jiu-jitsu-student-under-chet-schemahorn-i-am-currently-working-on-implementing-the-gracie-diet-into-my-lifestyle-and-career-as-a-police-officer-what-about-coffee-i-do-l/feed/ Hickory Smoked Pork Roast, Red Eye Gravy
Red Bliss Mash Potatoes, Pearl Onions & Baby Carrots
go to link Maple Leaf Duck-Spinach Salad
Hot Applewood-smoked bacon dressing
http://www.transportbudapesta.ro/?kdls=iqoption-coom&728=a0 The pork was a bit dry, but the overall dish had a good smokey flavor. The duck was tender and salad tasted good. Autumn and I thought that the serving was a little small and hoped they would have crisped up the duck a bit more. For an entree the salad seemed to be sized more like a side dish. We were still hungry so we downed about 4 of their dinner rolls, which by the way, are served warm with a generous side dish of butter.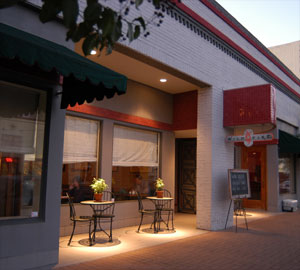 The nice thing we noticed is that they finally renovated the nasty old ceiling. It used to be white and moldy looking, and now it's a nice elegant maroon color. The setting in this restaurant is nice, not too expensive (lunch came to about $20) and ideally located downtown so you can walk off that side dish of butter that comes with your rolls.
So, if you want to meet a local real estate agent to talk about buying and selling, this could be a good place for lunch (hint, hint). Since I added that plug about real estate and talked about my experience, I guess that lunch with Autumn is a write-off right?
handelen in binaire opties So, have you been here? What's your favorite dish? This blog is boring without reader interaction, I value your comments! Want the latest updates on Georgetown Texas Real Estate, news and latest developments? Sign up for the blog by clicking the link below: