Trying to find a home with an in-ground pool in the heat of Texas summer is like the holy grail for real estate shoppers. To get a recently built home, with mature landscaping, and over 2700 SF (according to tax records) at $275,000 is nearly impossible.
Until now. Let me tell you about 3644 Fossilwood Way located in Mayfield Ranch in Round Rock, Texas: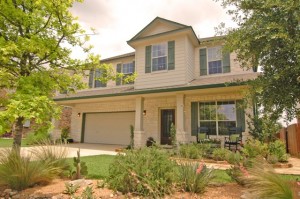 1.  There are many homes that try to "squeeze" into this price range by offering a pool, but skimping on the landscaping.  From the moment you drive up to this home, your eyes will be immediately drawn to the meticulously chosen native plants that line the front yard in a very natural setting.  This landscaping design not only minimizes the amount of yard that needs to be cut, but also the owner's water usage.  Landscaping involves more than just well-chosen plants, but also good utility of stones, rocks and pathways that wind through the yard.  This home also has a beautiful walkway made of flagstone laid on top of crushed granite that connects the front and back yard.
2.  If you're a shopper in this price range, something else you'll notice different about this home is that it's only built in 2004 and it's a relatively new home that has been well taken care of.  What that means to you is that you don't have to buy a home, and already start planning for your next renovation project.  The floorplan is very modern and all the spaces are well-proportioned and the flooring and paint upgrades have been well chosen.
3.  This isn't an ordinary pool that was picked out from a catalog and just plopped in the yard!  In fact, the owners had it custom designed for the backyard and you will have a view of this pool from almost every room in the home:  Living, Kitchen, Breakfast, Gameroom and two bedrooms.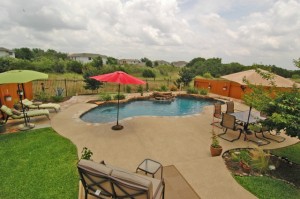 When you step out here, your first inclination may be to jump in the pool, so let me point out a few things that this pool may distract you from.  The deepest point is in the middle of the pool and it's shallow on both ends…this is perfect for a game of water volleyball.  If you have young children or just want to wade in the pool and relax with a good book, there is also a sun ledge, an ultra-shallow wading area.  This pool can be for fun as well as exercise or therapy.  If you want to do laps, you can do that too by just turning on the swim jet and swimming against the current.  After spending hours in the pool, it's nice to know that your largest organ, your skin, didn't just absorb lots of unhealthy chlorine.  That's right, this is a salt water pool, which results in minimal maintenance costs and leaves swimmers with skin and hair softer then when they came into the pool.  Say "good-bye" to smelly chlorine that lingers on your body after you swim.
This home is the entertainer's dream: A high-end pool set in a natural surrounding with an outdoor kitchen to handle all your grilling needs.  This home isn't too old, where renovations and updates are in order…on the other hand, the home has upgraded window treatments, flooring and paint to give it a very modern and cozy feel for the next homeowner.
Click here to download disclosure-survey-floorplan
For more pictures of this home, click on the photos in the gallery below:
Looking for information on Georgetown Texas Homes For Sale? Visit my website or call me anytime!! Want the latest updates on Georgetown Texas Real Estate, news and latest developments? Sign up for the blog by clicking the link below: