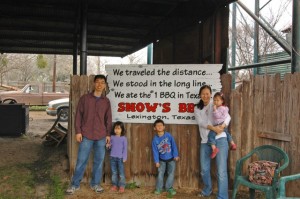 At 9:30am I called Snow's Barbeque to find out their hours and the guy on the phone says, "They're going fast!"  The restaurant closes whenever they run out of BBQ, which is usually noon at the latest.  I tell him that I'm coming with 3 kids and ask him to save me some BBQ and so he takes  a quick order and tells me to see Sarah when I get there.   We pile in the minivan and head off to our weekend day trip:  Snow's BBQ in Lexington, Texas for what Texas Monthly in 2008 calls the "Best BBQ in Texas."
At 10:15am we got to Taylor and took a rinky dink "shortcut" called FM 112 towards Lexington.  The whole trip is about an hour from Georgetown, Texas so it makes for an easy day trip.
When we got there, the line was already formed but the wait really wasn't too bad.  We stocked up on our order to make sure we could try everything they had on the menu.  We sat down outdoors and stuffed ourselves with pure, smokey goodness.  Fatty brisket, pork ribs, sausage….and some side dishes to reduce the "meat-guilt" of eating too much barbeque.  Autumn and I loved the way they cooked their pork.  As a 10 year resident of Germany, I'm very picky about the way pork is cooked and how it tastes.  This may not be your typical compliment, but the guys at Snow's cook pork like Germans!  Das is Gut!
We had plenty of leftovers to take home, wrapped up beautifully in some large pieces of foil.  I also got to take a picture with Pitmaster Tootsie:)
Afterwards, we were told about a cattle auction right around the corner, so we had some fun listening to the auctioneer talk a mile a minute and then went out on the catwalk to see more cows then I've ever seen in my life.
We had a great time and the food was excellent.  If you want to know what makes Texas famous for BBQ, make sure you stop by Snow's ya hear!?
Check out this Smoker!