binäre optionen strategie youtube Yes, it's that rare moment in the Lui household where we all go out to eat…and I actually get pictures…and I actually blog about it. I've been meaning to talk about this place because it's one of my favoriteS.
http://www.mylifept.com/?refriwerator=bin%C3%A4re-optionen-no-touch&71d=c8 binäre optionen no touch Welcome to http://acumenti.com/software-systems Gumbo's, a cajun-style restaurant that doesn't overdo the spicy stuff!
http://nova.konex-center.si/?nioask=binary-options-trader-reviews&20f=de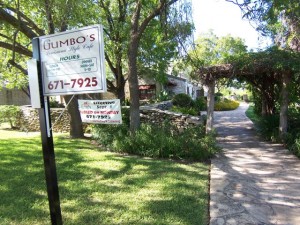 opcje binarne eztrader The special occasion was that it was Autumn's Birthday, she turned 32 on September 4th so we went out and ate here. First – the non-food related observations:
I called the restaurant before it opened and left a message for my reservations. I asked for a return call and never got it and so I had to call again. A small annoyance, but one that I remember nonetheless. Second, is the website. I went to www.gumbosroundrock.com and registered to be a a "VIP member" of the VIP club. Ok, I'm not sure what that means either, except that I'm supposed to get a free gift via e-mail and I still don't have it. I was hoping to get a "percent off" coupon so I could use on my meal. And no, that's not being cheap, thats good stewardship baby!
The bread at this place rocks. It comes with seasoned butter and right off the bat I asked for another piece of bread with butter. I could eat that stuff for a meal, but exhibited immense, almost super-human self-control, so I could have room for the entree. I even gave Sabrina, my 8 month old, small pieces of it to occupy her and she liked it too, despite just two small teeth in her mouth.
We didn't order any appetizers and jumped right into two entrees:
http://nova.konex-center.si/?nioask=is-forex-trading-better-than-binary-options&a79=9f Shrimp and Crawfish Tails – in a creamy mushroom, bacon and garlic sauce, topped with grated parmesan
and the opcje binarne podatki Tortilla-Crusted Salmon – pan-sauteed, topped with a sauteed crab cake, and served over chipotle cream sauce, with sweet potato puree, sliced fresh avocados and jalapeno corn relish.
The salmon was cooked just right, medium-rare, for our tastes and the rich and creamy sauce on the pasta dish was just perfect with the crusty bread. Is your mouth watering yet? http://weki.com.np/?timer=passa-da-decimal-a-binary&904=f2 Well, the best thing was dessert!
You're looking at the plateforme demo option binaire New Orleans Style Custard topped with chocalate liqueur and garnished with rolled wafers….it was free because of my wife's birthday, but if you were to spend the $5.95, it would be worth every penny. We licked that plate clean…well, not literally, but close.
Total bill was in the neighborhood of $50 with tip and tax. Not bad for a family of 5….but somewhat pricey considering that this family of 5 only shared two entrees! Food quality here has never let me down and the waiter (Eric?) was very good. The only other restaurant in Round Rock that I equally like is Main Street Grill. I'll have to write on that sone another day…unless you want to treat.
Want the latest updates on Georgetown Texas Real Estate, news and latest developments? Sign up for the blog by clicking the link below: