Hello everyone,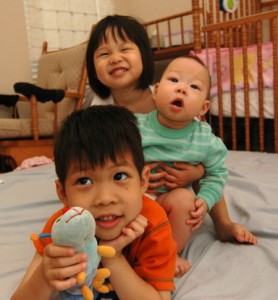 Edward has given me permission to write on his blog, though he may regret it. Let me introduce myself…I am Autumn Lui…his bride…and mom to 3 beautiful and energetic children, whom I'm sure you've all met through this blog already.
I am a Pharmacist by trade, however, I have not practiced since our oldest was born 4 years ago, so my books are covered with dust and it takes me just a bit longer to answer pharmacy related questions. However, If any of you have a drug question, I'd be happy to help, but mind you..I may not be able to get back to you as quickly as you may like. That said, I want to provide a service to the reader's of this blog and will do my best to give you sound pharmacy-related information. DISCLAIMER: No information I give is meant to replace your doctor's instructions and if there is ever a discrepancy then by all means please check with your doctor to verify the info and please don't sue me, as I have no income!
I will confess that most of my postings will not be drug related (Hurray!), but rather on random things that pop into my mind during the day (hurray??). For instance, have you ever experienced sitting in church feeling like the pastor was speaking directly to you? I did this morning…
Edward has been quite busy lately and when he's busy…that means less help for me at home with the kids…
which means I am holding on to my sanity with a thread that's about to SNAP! This AM our pastor at Hill Country Bible Church in Georgetown, Texas spoke on the subject of worship. The Bible tells us to shout to the Lord and make a joyful noise.
My kids are especially good at this, though they may deny it. I feel like I've been inhibiting their joy because they laugh and run about joyfully, and mom is right behind them "shushing" them and telling them to behave. My second born just loves life and she is in it to have a good time. Life is truly like a bowl of cherries to her and I have a hard time with that. Why is that? It drives me absolutely nuts that I dwell on the negative and not on the positive. God's word tells us to think upon whatever is true, whatever is lovely, whatever is noble, whatever is of good report, whatever is praiseworthy and yet if I am honest, I must admit that I do not do that most of the time. What is my problem? Can you relate? How have you overcome this?
Well, it is getting late and I'd better hit the sack so that I can get up for midnight feedings with Sabrina. Thanks for reading and please feel free to comment. Your feedback keeps this blog interesting!