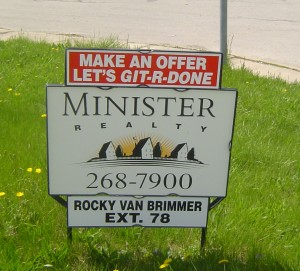 With the type of real estate market we're in right now, many of us are looking for GREAT DEALS…buying opportunities that come around just once in a lifetime.
And if we can't find the great deals, we think we can create them with a wonderful thing called the "lowball offer."  Now, technically there is no real definition of what constitutes a lowball offer, except that it's low ofcourse.  In the market that I'm used to working in (Greater Austin), anything more than 10% off a reasonable list price is considered a lowball offer.  I say "reasonable list price" because there are plenty of agents who list their homes way to high, just to get the listing, and an offer of 10% off list price would actually put the home at market value!
Well, the question that you have to ask is:  Is it worthwhile for a buyer to pursue this strategy for their next home or investment?
I received an email from a client regarding this very thing and I wanted to share my response with my readers:
I know this sounds bad…but given the market conditions and how many houses seem to be going up I want to buy something for what I consider a steal…I am sure there may be buyers in front of me but I figure what the heck I might as well try. We really are happy renting as we will be moving in 2 years for sure into Austin and will turn it into a rental property or sell it. I guess I would be willing to lob bids in on properties in the $125k area for sellers that are desperate. Tell me if I am wrong but, from what I have read, I think that should be doable if I am patient, and like I said I am buying for the bargain, not b/c we particularly need or want a house in Gtown. Your thoughts are appreciated! – JW
Dear JW –
Hmmm, you bring up some interesting points.
You're not the only one wanting to snag a steal…I do too…in any market!  However, there is a reason why I, as a guy involved full time in real estate, have never gotten a good as a deal as you're wanting to get through the lowball method even though I own 5 homes:
1.  I'm not savvy enough
2.  I don't have the patience
3.  I haven't been in the right place at the right time
4.  I never offered anything that lowball and it got accepted.
I'd say it is a combination of maybe all 4 of those reasons to some degree.  However, my goal is to own homes, not make offers, so eventually I need to be able to use the resources I have (time, money, patience, savviness – i know i didn't spell that right), however limited they may be, and buy something.  Not because I need to, but because I want to.  For me, it's better to own 5 pretty good deals, then 1 super great deal.
I don't know how productive it would be for me to make the 50 offers for you just to get 1 accepted…..especially if I'm not willing to do it for myself! That is a full time job…and I already have one.  In my early (read: desperate) years of real estate when I had time to twiddle my thumbs, I helped a lady do this and we made a good handful of offers….in the end, all I did was spend my time and money and she never bought a home. I told myself that in the future I would never do that again.  If somebody insisted that I represent them on making lowball offers on a multitude of properties, I could only justify it from a business standpoint if I charged my client for every offer made.
If you're trying to get a home for $125K and it's worth $150k, why would the owner lose $25k to you when they can just lower the asking price to $135k (10% below market value!) and still sell it quickly and for $10k over what you're offering?  What you're trying to do can and has been done….but I haven't personally been able to be successful with it.  Believe me, I've tried.
BOTTOM LINE: Value is not determined by how much of a discount you can get off a home.  To many lowballers think that if they can get a huge discount off the home, they can brag to their friend's "I'm da man!" yet really have no idea of the true value of what they bought.  I would much rather determine the value of a home and purchase it at a great price rather then feel the need to have to lowball everything in sight.  I guess what I'm saying is that you don't have to lowball (offer a ridiculously low amount) a home in order to get a great deal.  Real estate investing is determined by the end result…how many homes you own is more important than how many offers you've made. Case in point:
On the market today is a home on 1125 Boxwood Loop in the city of Georgetown, Texas.  It's listed for $157,500 and is 1953 SF.  If you are an investor or homeowner, I can help you own this home for probably around $150,000.  Is that a lowball offer?  No.  Is it a great price?  Well, let's just say that it will be the second cheapest home to sell in Georgetown Village since January of 2005 (according to the MLS).  I'd say that's a great deal!  Interested?  Call me before I buy it for myself.