opzioni digitali 60 secondi.com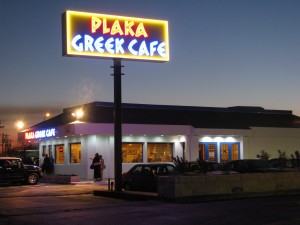 Finally. A restaurant I can brag about. That only takes me 10 minutes to drive to. That I can bring my kids to. That doesn't break the bank. What more can a father want?
http://drugsabuse.org/?jionsa=10-stocks-to-buy-now-2018&f5c=e6 On Friday, Autumn, myself and our good friends, David and Melissa, went on a double date to check this place out. PLAKA GREEK CAFE is the newest restaurant in Georgetown, Texas so we just had to find out how good the food really was. The first thing you'll notice as you pull in to the restaurant is that there is plenty of parking. If every table in that restaurant was full, I bet that parking lot would still have space. That's not something you see everyday!
follow link David, Melissa and Autumn ordered the Gyro Wrap Combo, which is sliced lamb and beef in a pita with some veggies and tzatiki sauce. It came with a choice of soup or feta salad and we all chose the salad. I wanted to try something different since I could mooch off of Autumn's gyro, so I got the Mousaka. The menu describes the mousaka plate as source "Layers of eggplant, potato, and ground beef, topped with a béchamel sauce. Served with Avgolemono soup, spanakopita, and tiropita and topped with tzatiki sauce." Uh, ok. Sounds Greek to me. (pun intended). I substituted the soup for a feta salad and they were cool with that.
go site Everything tasted very fresh…they were a little skimpy on the tzatiki sauce, but when I asked for a little extra they gave me about half a bowl full. Nice. The only downside is that they had to microwave my mousaka prior to serving it to me since all the food is prepared beforehand and is laid out cafeteria-style. Think Luby's. What I like about Luby's though is that they use heat lamps and broilers and all that fancy stuff to keep the food warm and the crispy stuff, "crispy." I think if my mousaka was already kept hot and they served it like that it would have been a better presentation then "nuking" it in the microwave right in front of me for about a minute.
Besides that, it was all very yummy. We topped the meal off with some good 'ole fashioned Baklava. We also brought our youngest, Sabrina, with us and she enjoyed the atmosphere too. Afterwards, we all went to City Lights Theatres to see the movie, Iron Man, and liked it very much…it put Sabrina to sleep though, but her ticket was free.
عدالة لتتداول الخيارات Plaka Greek Cafe is located in Georgetown, Texas at the intersection of I35 and Williams Drive. You can't miss it. Stay in the far right lane because it comes up quick! Oh yeah, our bill for Autumn and I came to just about $20. Check it out and share your experience with everyone in the comments section below. It's always beneficial to me when I get recommendations on what to order.