…is unfortunately 30 minutes south (in Austin).
I celebrated my 6th anniversary with my wife, Autumn, on January 4th.  So we dropped off the kids at a friend's home and headed off to Ruth's Chris Steakhouse.  I've been here a couple of times and this is my all-time favorite steak place.  What doesn't make sense to me is that although the stock price has been going down, the prices have been going up on the menu. Go figure.
Rather then order two steaks and clog up our arteries, my wife and I usually split a steak and then we buy a side item or two.
We started off with the Oysters Rockefeller, which looked like it was topped with the same type of creamed spinach that they serve as an appetizer.  Not too creative in my book, but it sure tasted good!  We then tried a Ruth's Chris chopped salad next and decided to split it.  Good thing we did, because both of our portions were humongous!  If we had to do it over again, we would ask them to bring the salad out with the steak.  The salad almost looked too good to eat, but that lasted about 2 seconds before I stuck my fork into those beautiful greens and started gobbling it up like a rabbit that is about to have his last meal.  Don't ask me what those green dots were or how they tasted, I'm not that kind of food critic.  All I know is, it was crunchy, tasty and to balance out the meat, make sure to have them bring both out together.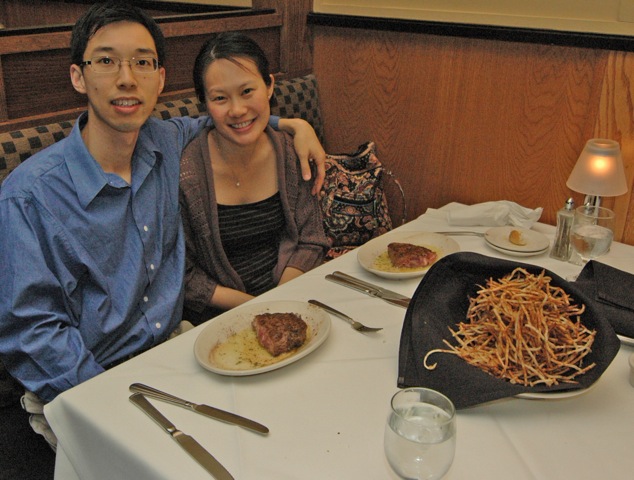 Our next course was an overdose of meat.  As usual, the restaurant cooked it up to perfection.  After 1600 degrees in an oven and served to you on a 400 degree plate, you wonder how they can keep medium-rare so perfect.  Yet they did it again.  My ribeye was sizzling up a tune when it arrived at our table and the waitress split it on two plates since we were sharing.  That was a nice gesture.  The worst type of steak you can get is a lukewarm one.  I love a steak that is hot.  How many times have you had to blow on a steak to eat it because it was that hot?  Exactly.
We also paid $8 for glorified potato chips that were supposed to be "shoestring potatoes" according to the menu.  It was worth it, since we brought it home and the kids loved it for lunch the next day.  Ok, I admit it, I loved it too.  If you have a special occassion, be sure to tell the restaurant about it and usually you'll get a free dessert.  Autumn was wondering whether they would or not and I told her that most definitely they would hook us up.  She asked me, "how can you be so sure?"  And I told her, well, I asked them for a free steak, and they already told me "Sorry, nice try, but we'll get you a dessert."  So, my shameless Realtor negotiating technique was to ask for the bigger item and settle for what I really wanted.
So, here's the freebie in all it's glory:
Dang, this looks so good that I didn't even feel like I should shrink the image.  That would just not be right.  Chocolate molten cake with fancy caramel and ice cream on top.  I'll let the picture describe itself.  Usually we go for the Creme Brulee which is done very well here.  However, we were both so stuffed that we wanted something to bring back home for the kids and could be enjoyed as a leftover.  Are we great parents or what?
Hopefully, the restaurants in Georgetown, Texas will slowly improve and one day there will be a steak worth eating.  I've never tried the Montana Mike's but I don't have a good feeling about it.  For now, take the 30 minute drive to 6th street, order up a medium-rare ribeye that is perfectly marbled and sizzling at the table and enjoy.  Total bill was around $90 with tip.